With most of the actives away from campus for break, the summer presents the perfect opportunity to get some work done on the Lodge.
This year's Summer Work Weekend will take place on the weekend of June 16, 2018.  We'll be tackling several projects in an attempt to get the new Lodge in as good of condition as possible before Fall Rush. On the agenda will be painting the first floor living areas, landscaping the yard, repairing the driveway and giving the Lodge a good deep clean.
Come and join us for a trip to Urbana to help give the Lodge some TLC. If you can't make it but have any paint rollers, other painting supplies, or any other landscaping tools you would be willing to lend to the cause please contact Paden Thomas at pthomasx92@aim.com at your earliest convenience.
Below is a tentative agenda for the work day on Saturday: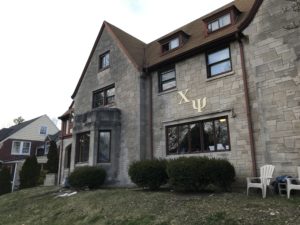 9am – Meet at the Lodge and start painting/ cleaning. 12pm to 1pm – Lunch
3pm- Maintenance clinic for the undergrads
5pm- Break for dinner at Murphy's
Not only will this be a great opportunity for you to give back to the Lodge by volunteering your time and skills, but it will also be a great chance to get to know the undergrads while working side-by-side with them.
If you have any questions, contact Paden anytime. We hope to see you there!