Temple Hoyne Buell Memorial Scholarship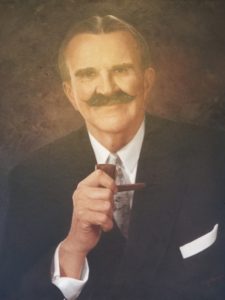 Temple Hoyne Buell, ZΔ 1916, was born in 1895 to a prominent Chicago family. His grandfather was a reform mayor of Chicago, and his great-great grandfather was among the 13 pioneers who incorporated the village of Chicago in 1833. He studied architecture at the University of Illinois, then pursued graduate studies at Columbia University.
During World War I, Brother Buell served in France, where he was exposed to phosgene gas. Diagnosed with life-threatening tuberculosis, he moved to Denver for treatment in 1921. He regained his health and went on to establish the largest architectural firm in the Rocky Mountain region. More than 300 Buell-designed buildings are part of Colorado's architectural legacy, including designated landmarks such as the Paramount Theatre and Horace Mann Middle School. The Paramount Theatre is also listed in the National Register of Historic Places.
Brother Buell earned recognition nationally as an architectural visionary, particularly for the conceptualization of the first "central-mall" shopping center designed with the parking lots encircling the shops. He presented his concept to the Urban Land Institute in 1946 and later built the original Cherry Creek Shopping Center in accordance with his vision. This model became the prototype of today's shopping centers.
His distinctive career and numerous achievements were recognized with the awarding of honorary doctorate degrees from Columbia University and the University of Colorado. He was posthumously inducted into the Colorado Business Hall of Fame in 2013 after he died at the age of 94 in 1990.
Brother Buell was the 16th President of Chi Psi Fraternity, and to this date remains the only brother from Alpha Zeta Delta to serve as the Fraternity's President. His legacy to the world of architecture is recognized on the University of Illinois campus, where Temple Hoyne Buell Hall, built in 1995, houses and intertwines the graduate schools of architecture, landscape architecture, and urban planning.
Scholarship Application Process
In the memory of our beloved Brother Buell, three scholarships, each worth $1,000, are being offered to qualified incoming freshmen men to the University of Illinois. This scholarship is offered without regard to race, creed, color or religion. Acceptance into the membership of the fraternity is not required. The scholarship will be paid in a single amount of $1,000 in the Fall semester upon proof of full-time enrollment at the University of Illinois. Recipients will be those applicants who best exemplify the ideals of Chi Psi Fraternity intellectually, morally and socially.
Semifinalists will be announced on May 30, 2020 and will be required to attend an interview at a time and place to be announced. Finalists will be selected following the first round of interviews. Each finalist will then be required interview with a panel of members of the Alumni Scholarship Committee during the first week of school at the Chi Psi Lodge, located at 710 West Ohio Street, Urbana, Illinois.  Scholarship winners will be announced at a Scholarship Luncheon on the afternoon of September 20, 2020.
To apply for the Temple Hoyne Buell Memorial Scholarship, please complete one of the below applications and either email your completed application, along with an official copy of your high school transcript, to BuellScholarship@gmail.com, or send your application materials to Chi Psi Fraternity, 841 Willowbrook Drive, Wheeling, Illinois, 60090 by May 9, 2020. All applications must be received electronically or postmarked by that date.
Buell Scholarship Application – Fillable PDF
(N.B. – when you print or save your PDF, please ensure that the information you typed into the application is saved as well.)
Buell Scholarship Application – Print and Mail or Scan
If you have any questions or concerns regarding the Temple Hoyne Buell Memorial Scholarship, please feel free to email BuellScholarship@gmail.com at any time.