Alumni News and Notes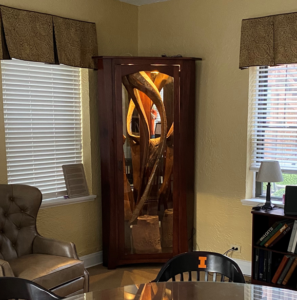 The sculpture in the Chi Psi Lodge was carved by Will and was selected and donated by Diana to be placed in our Lodge as a remembrance and tribute to him. It is with much gratitude that we thank Diana for this work of Will's art and we also thank John Mottern, the owner of Gallery 55 in Natick, MA for packing and shipping the sculpture.
Read more about Brother Will Harrington here.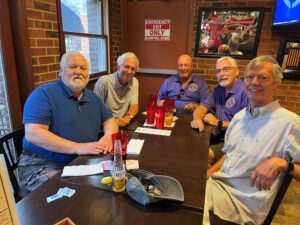 Brother McKinney (center) with other of 70s alumni including George Cartinos, Mike Welch, John Mckinney (center), Bill Swick, and Harry Kiriluk at Palmers in LaGrange, Illinois.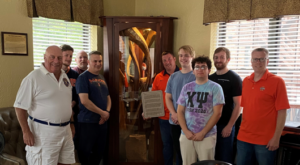 Upcoming Events
Nothing upcoming at the moment!

Check for dates on upcoming initiations and watch out for Founders 2024!
Parthenon Archives
President

Jeremy Doser, ZΔ '97

Vice President

Steve McFarlin, ZΔ '96

Secretary

Matthew Hess, ZΔ '00

Treasurer

Randy Mason, ZΔ '96

Trustee

Chip McConville, ZΔ '89

Trustee

Paden Thomas, ZΔ '21

Trustee

Robert Ennesser, ZΔ '04

Trustee

Cameron Wall, ZΔ '12

Undergraduate Trustee

Christian Hausman, ZΔ '26, #1

Undergraduate Trustee

Ashley Brodnansky, ZΔ '25, #2

Undergraduate Trustee

Alec Loessy, ZΔ '25, #3

Undergraduate Trustee

Riku Kanzaki, ZΔ '25, #4